We're excited to share this interview with you from SBS radio. Godwin Yidana and Gayle Pescud, the co-founders of G-lish Foundation, were interviewed by Bertrand Tungandame at the SBS studios in Sydney. Thanks to Bertrand and SBS Radio for the opportunity to tell the G-lish story.
The link to the interviews on SBS Radio Africa program is here. You can stream it online or listen to the interview here.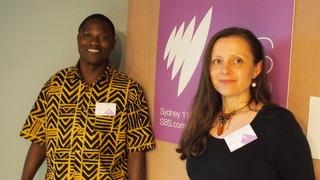 G-lish Foundation is a not for-profit organisation from Ghana. It was established in 2010 by Gayle Pescud (Australia) and by Godwin Yidana (Ghana). G-Lish develops environmentally sustainable income generating projects to reduce poverty in rural communities in Ghana.
From 5 producers at the beginning of its operations G-Lish has now attracted more than 80 producers. The majority of these producers are women. Some of G-Lish Foundations producers lived below the poverty line.
Thanks to G-Lish foundation these producers have become financially secure and are now able to save. In most cases these women have also become the main income earners in their households.